Pastor shoots his wife then attempts to murder himself
Paunchy pastor shoots wife, himself.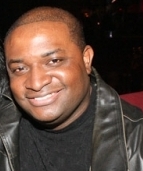 Blog King, Mass Appeal
MCCOMB, Miss. — You know times are bad when pastors start bustin' caps. Congregants of Bright Morning Star Missionary Baptist Church are in shock after Reverend Danny Prenell Jr., 25, shot his wife, 27-year-old Gabby Prenell, before turning the gun on himself. And, get this: He shot the First Lady in front of their three children. The sanguinary ordeal transpired around 3:30 p.m. on June 21st at the Hampton Inn in McComb, Mississippi. Investigators descried blood-stained floors in the lobby near the elevators. According to multiple reports, Gabby threatened to divorce Danny — sparking a bout of contretemps. As the quarrel intensified, Danny pulled out a gun and opened fire — striking Gabby twice. Then he shot himself after posting the following cryptic message on Facebook: "I may not be a perfect man, but I'll always be a family man."
The corpulent simp and his wife were rushed to the hospital. Gabby is still fighting for her life. After receiving treatment, Danny was arrested and charged with aggravated domestic violence and disorderly conduct. Their kids were placed in custody of child protective services. Social media reaction was unforgiving. One commenter wrote, "He definitely doesn't practice what he preaches." Another added, "Don't care what anyone else believes, churches were built by men to use God as a means of attracting money and women." Back in April, Danny paid homage to Gabby — calling her his "queen" and the "woman that I love and owe my life to."
Nobody saw this coming.
"I've watched your growth on all levels and you're a great mother, wife, and my best friend," Danny wrote.
"I'm proud to be your husband because you are a woman of class, discretion, integrity, and most importantly… you're a woman of God."
Danny is a former deputy with the Rapides Parish Sheriff's Department.
His church is located in Pineville, Louisiana.
Watch the documentary.
Share your thoughts.