Pookie killed wife after she chastised his drunken ass

Drunken Pookie kills wife.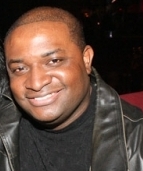 Blog King, Mass Appeal
DAYTONA BEACH — The adventures of Pookie & Ray Ray continue. Viral Crimes released the murder documentary of Shawntai Adkins, 34, who was shot dead by her simpin' husband, 35-year-old Shantell Adkins, because she tried to stop him from driving drunk. Yep, he killed her for caring about his well-being. Gotta say, not surpised. With a feminine moniker like Shantell, he was destined for incarceration. The femicide transpired outside their residence, in front of neighbors, around 6:30 p.m. on October 19th in Daytona Beach, Florida. According to police reports, Shawntai found out Shantell was riding his motorcyle while inebriated — sparking a bout of contretemps. As the quarrel intensified, Shantell pulled out a rifle and opened fire — striking Shawntai in the head. Then he tried to blow his own brains out, but shot himself in the shoulder instead.
Shawntai was pronounced dead at the scene.
Shantell was transported to Halifax Health Medical Center where he was arrested and charged with first-degree murder.
Dewayne Evans, Shantell's uncle, called 'em a "loving couple" because they always appeared to be happy.
Turns out, they were being pretentious.
Social media reaction was venomous. One commenter wrote, "Them motorcycle men are always a red flag." Another chimed in with, "Wait, so he killed her because she gave a damn? This is why I will never again be in a relationship with a person with substance abuse issues." A third viewer added, "There was abuse and violence in that relationship way before that deadly shot. You can pretend to be whatever you want to be on social media and deceive a lot of people. This is one of many examples of women losing their lives while pretending to be in a loving relationship or marriage."
Shawntai was a registered nurse.
She leaves behind three children.
Watch the explosive documentary.
Share your thoughts.